Welcome to

ADU

Custom Homes
ADUCustomHomes.com serving Orange, Los Angeles and Riverside counties, plus most of California. We are a division of, United California Financial Corp., having a California State Contractor's License #772226 and is properly bonded and insured.
We understand Accessory dwelling units and how they meet the goals and objectives for the property owner whether owner or non-owner occupied.
'Knowledge is power' – we possess the training, experience, design, legal and technical abilities to properly guide our client to make the right choice at the most economical price.  We give the property owner design options to gain superior results.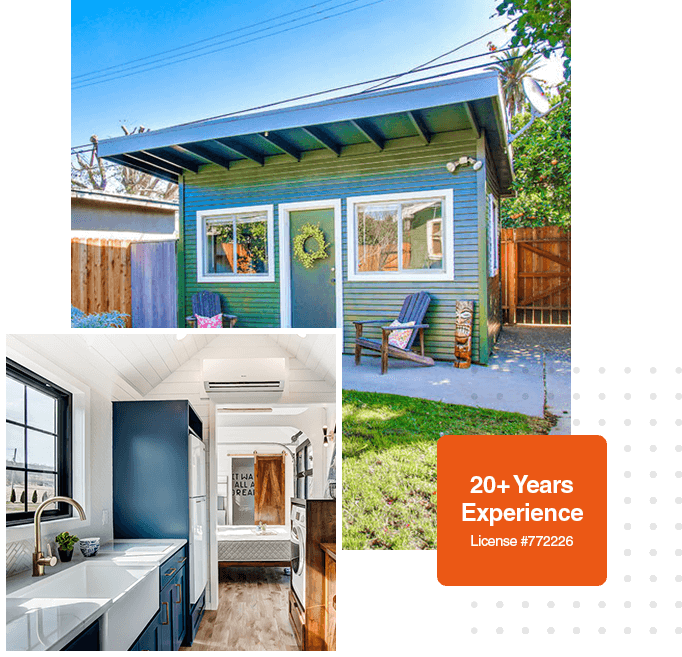 Specialized
ADU

Financing Programs
Offset Your Mortgage by Building an ADU on Your Property
When you need more living space for your family, consider building an addition to your house or building an ADU (Accessory Dwelling Unit) on your property. Your ADU will have its own kitchen, bathroom, living area and a separate entrance. It may be attached to the house, a garage conversion or it can be built as a stand-alone unit making use of water & energy connections of the primary house.
Got 60 seconds? Watch our video!
Get us Working for your New
ADU
Design and Contruction Process
of
ADU

step by step
Here are 5 steps to building an ADU (other factors may apply) : 
Secure Your Budget and Financing.  Budget is the biggest obstacle faced by homeowners trying to expand or alter their existing space (ADUCustomHomes.com can assist with financing options).
Comply with zoning and building requirements.
Consult with a qualified contractor.
Design your space, preferably with a qualified architect.
Enter the permitting process and begin construction.
Let's meet! Together we will assess your property and your ideas, review your budget, provide projected cost estimates, consult with an architect if necessary, outline the process, phase and time estimates.  We provide you with a projected start and completion date to assure the project can be well completed according to our agreed commitment and contractual duties.  Team work is key.
Let's review your vision of the end result.  Together we review the process outlined by the design, size, functionality, layout and review architectural designs of what you want and what your ADU will look like.  Here we put our heads together and strategize.
Design drawings are used to develop and communicate ideas about a developing building design consistent with your ultimate goals.  In the early stages this process will involve a teamwork effort with your contractor, architect, designer and structural engineer. This will result in a collaborated team effort adequate to submit to city/county agencies for approval.  It's important to remember some design changes can be incorporated along the way.  
The construction phase represents a process where there is a consensus of goals between owner, contractor, architect and city/county agencies. ADU Custom Homes, a state licensed contractor will establish a work schedule, retain the appropriate labor force and subcontractors plus acquire necessary materials to build.  Once all inspection sign-offs are obtained, the city or county will issue a "Certificate of Occupancy."  You can MOVE IN!  CONGRATULATIONS!